International Baccalaureate Primary Years Programme (PYP)
Candidate School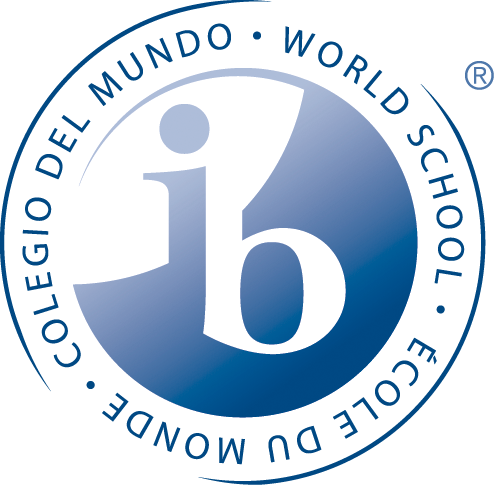 CAMPUS NEWS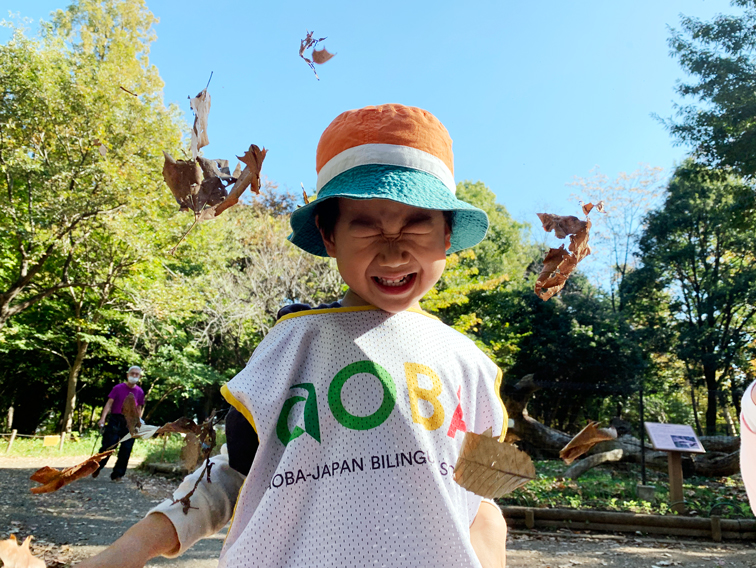 Learning in a Nature-rich Environment
with a View of Rinshinomori Park
The campus, located in a quiet residential area, is a luxurious space with a yard and a large balcony, where students can freely engage in activities. From the top floor, students can enjoy a panoramic view of Rinshinomori Park. In this nature-rich environment, students can stretch their imagination everyday and create the learning themselves.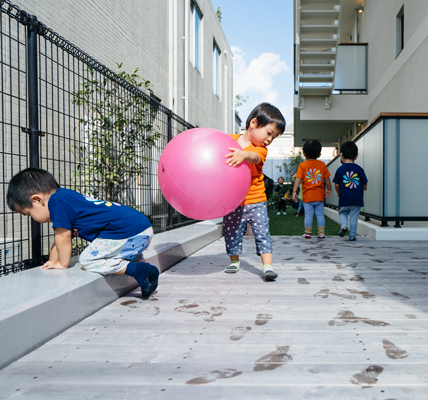 "A Second Home"
Flexible Space and Carefully Selected Materials
Students grow day by day, as their imaginative minds keep extending and developing. In order to accommodate such growth, the walls are flexile to draw on and there are no ceiling boards above. The entire space is designed as an installation (an artistic genre that allows students to experience the space as a place of expression and exhibition by composing the space according to their thoughts and intentions), allowing students to explore and be inspired with creativity. The entire building is built with Marmoleum material, which is anti-allergic and anti-viral, combined with the warmth of wood, all in gentle colors. Another major feature of the campus is the artificial grass yard, comfortable in bare feet, and the spacious balcony, where students can freely engage in indoor and outdoor activities.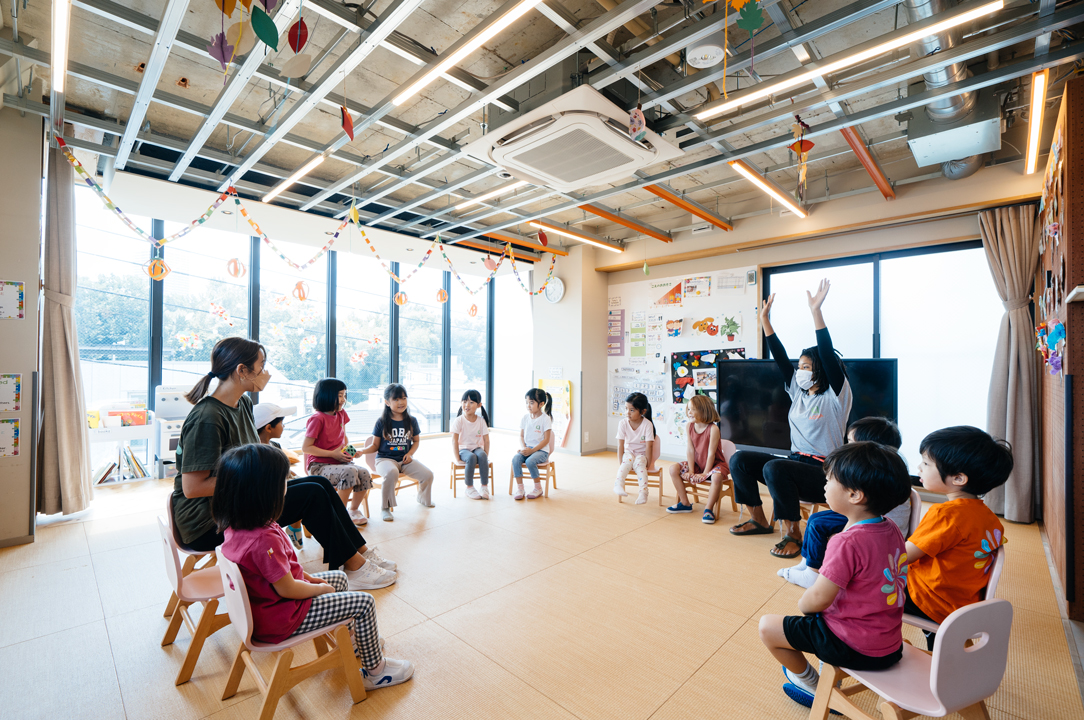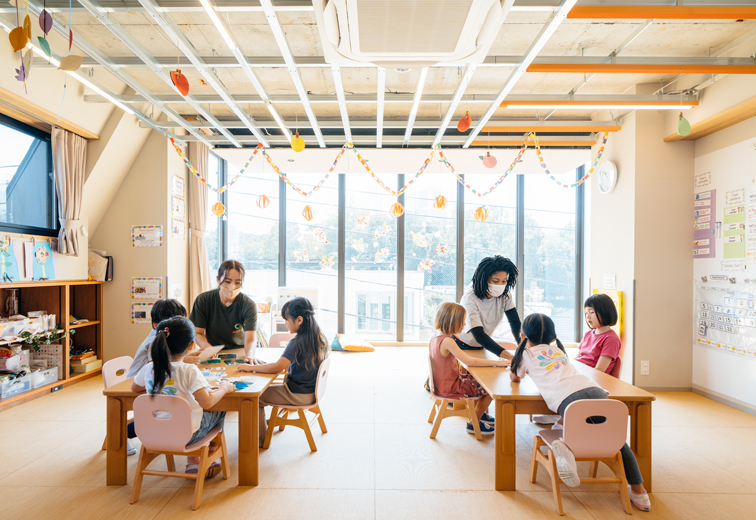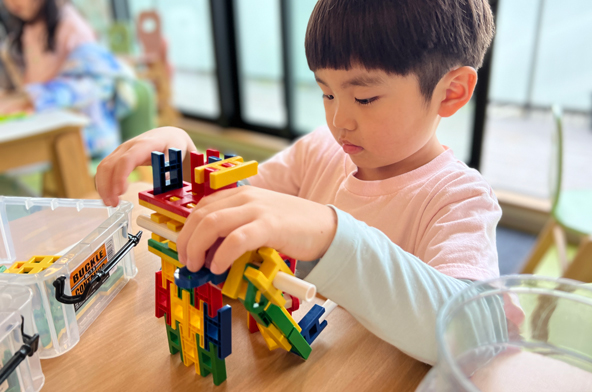 IB x STEAM Education
STEAM stands for Science, Technology, Engineering, Art/Design, and Mathematics. In this continuously changing world, we incorporate learning opportunities through STEAM into our daily zone playing and PYP curriculum, in order to foster the ability of "Monozukuri" and problem-solving skills that create new changes itself.
We also use three-dimensional toys to enhance thinking skills. Especially in early years, using three-dimensional objects has the effect of deepening students' understanding of shapes and spatial awareness, as well as numbers and logical thinking.
After School Program
and School Bus
We offer a wide variety of After School Programs including gymnastics, karate, ballet, street dance, programming, and Koguma-kai (basic exam class for elementary school entry). Even those families who don't have time to take their children to extracurricular lessons, can rest assured that their children have these experiences that expand their interests, during regular school days.
The school bus service is available covering Meguro-ku, as well as Mita, Shirokane-Takanawa, Azabu-Juban and Roppongi areas in Minato-ku, the Daikanyama/Sarugaku, Ebisu and Hiroo areas in Shibuya-ku, and the Osaki area in Shinagawa-ku. Many families use the morning bus to come to school, and also the bus in the evening, which leaves the campus when the after school program ends at 5:30pm.
*Programming and Koguma-kai are eligible from K4 (4 years old and above).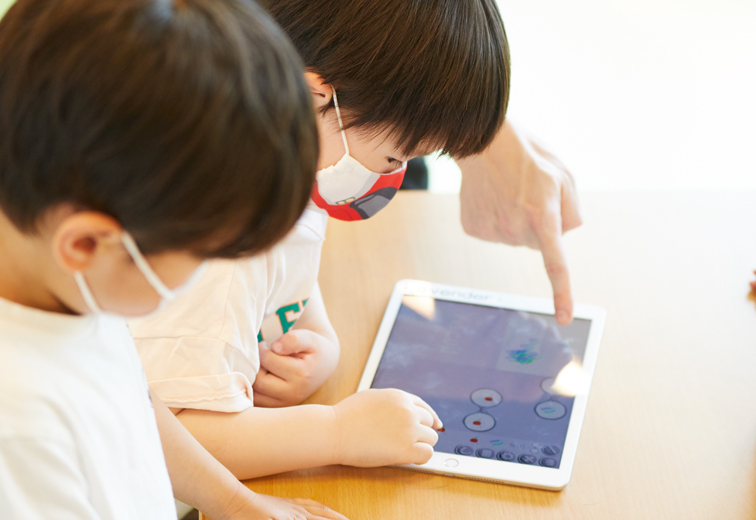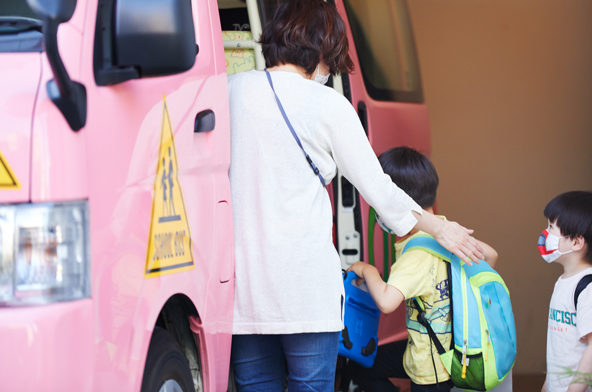 School Overview
Name
Aoba-Japan Bilingual Preschool Shimomeguro Campus
Address
5-29-6 Shimomeguro, Meguro-ku, Tokyo 153-0064
TEL
03-5734-1640
Open Days
Monday to Friday (ALA Programs on Saturdays)
Open Hours
​8:10am-6:30pm
- Regular school hours 8:10am-4:00pm
- Extended childcare hours 4:00pm-6:30pm
- Drop-off time 8:10am-8:30am, Pick-up time 3:45pm-4:00pm
- ASP (After School Program) are also available
Holidays​
Saturdays, Sundays, National Holidays, Golden Week (+/- 1 week), Summer Break (2 weeks in August), Winter Break (mid-December to beginning of January), Spring Break (end of March to beginning of April)
*In addition: the Aoba-Japan Seasonal Programs are held for 2 weeks during Summer Break, 1 week during Winter Break, and the last week of March.
(Separate fees/discounts applicable for internal students).
Facility Outline
License/Certificate
Certificate of meeting the Guidance and Supervision Standards for Unlicensed Child Care Facilities issued by the Tokyo Metropolitan Government
Floor Area
476.36㎡
Capacity
106 people
Building
For Childcare purposes
Reinforced concrete / 1 basement floor, 3 floors above ground
Facility Details
Classroom / Library / Children's toilet / Children's sink / Office room / Kitchenette and Meeting Room / Multipurpose toilet
Equipment
Fully air-conditioned / Air supply and exhaust ventilator / Emergency supplies / Security camera and Security card system / Machine security system / Automatic fire equipment / Fire extinguisher / AED etc.
Safety Assurance
Childcare liability insurance
Principal's Message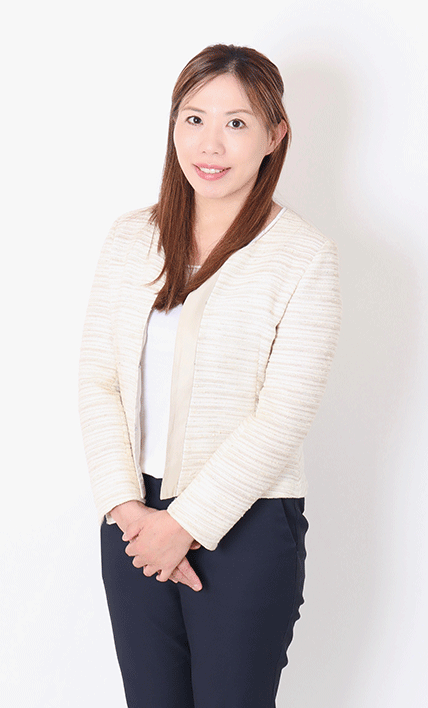 SHIMOMEGURO
CAMPUS
LEADERS
I feel that in learning a language, it is important to recognise what we want to communicate or talk about, and what we are curious or inquisitive about. We aim to provide an environment where children, who will be responsible for our future, can affirm their individuality without hesitation and develop their "creativity," "curiosity," "spirit of inquiry," "ability to act," and "decisiveness," rather than just an education that measures their knowledge and academic ability with crammed scores. I also hope that our children will grow up to be adults who love English, can play an active role globally, and are full of sensitivity and love.
Profile
Worked for a major language school after graduating from university. She went to the UK for language study, au pair and internship experience. After working for an international education organisation in the UK, moved back to Japan and started to work for an educational business. Worked in management positions in the children's English business, including management and business strategy, as well as a manager of a branch and overseeing multiple branches.
In 2023, joined K.K. Aoba International Educational Systems, which operates Aoba-Japan Bilingual Preschool. In July, became the Principal of the Shimomeguro Campus. She has been working as a Kids art workshop instructor besides A-JB.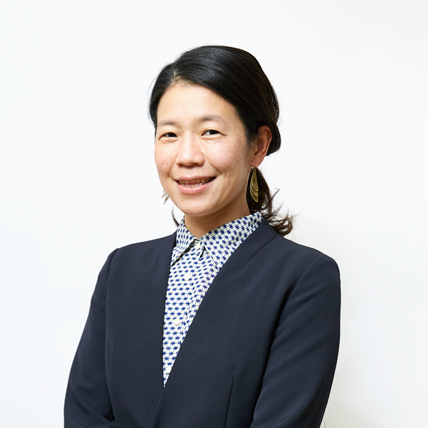 PYP Coordinator
Akitsu Milward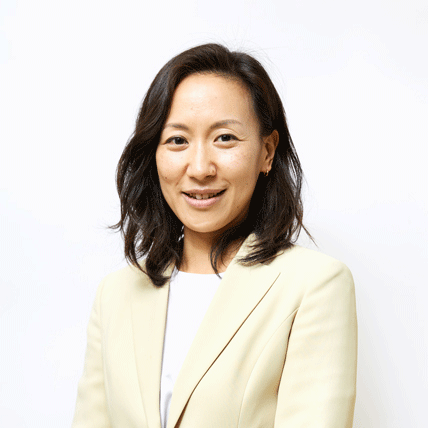 Special Administrative Assistant
Haruko Isobe
Access
Shimomeguro Campus
5-29-6 Shimomeguro, Meguro-ku, Tokyo 153-0064
TEL : 03-5734-1640
Nearest Station
12 minute walk from Musashikoyama Station on the Tokyu Meguro Line
Public Bus
9 minute walk from Moto-Keibajo bus stop on the Tokyu Bus
1 minute walk from Iriyabashi bus stop on the Tokyu Bus
International Baccalaureate® (IB) Primary Years Programme (PYP) Candidate School
Aoba-Japan Bilingual Preschool Shimomeguro Campus is a candidate school* for the PYP. This school is pursuing authorization as an IB World School. IB World Schools share a common philosophy- a commitment to high-quality, challenging, international education- that we believe is important for our students.
* Only schools authorized by the IB Organization can offer any of its four academic programmes: the Primary Years Programme (PYP), the Middle Years Programme (MYP), the Diploma Programme (DP), or the Career-related Programme (CP). Candidate status gives no guarantee that authorization will be granted.
For further information about the IB and its programmes visit http://www.ibo.org.